LED spotlight is mainly composed of shell, lamp bead, aluminum base plate and driver. The specific analysis is as follows:
LED spotlight shell: two kinds of shells: baking paint and electroplating. The whole set includes lamp cover, lamp cup, base, aluminum substrate, lens, and screws. It is suitable for MR16, GU10 lotus-shaped, beautiful, generous, and has good heat dissipation performance.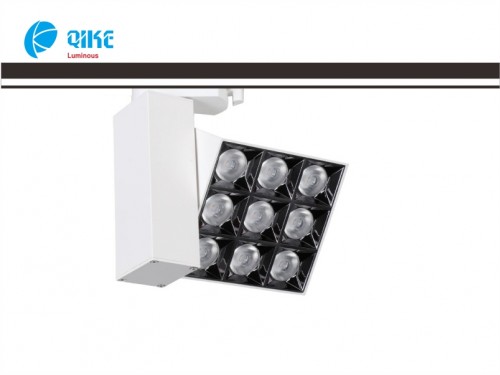 LED spotlight lamp beads: six-pin RGB, special for spotlights, red light: 40lm; green light: 60lm; blue light: 15lm; all use 350mA current.
LED spotlight drive: input voltage (220V) constant current output, to ensure the safety of high-power LED use, high power factor, more than 0.98 isolated power isolation voltage is 3000V over-temperature protection, short-circuit protection, open-circuit protection can drive all 3W LEDs (including red and yellow) use ceramic capacitors, long-life design, up to 50,000 hours of high reliability. The whole lamp can pass the safety test, the isolation voltage can reach 3750V, and can pass the EMC test. Small size, 24mm*18mm, with China and the United States patent.
Guangdong Qike Electronics Co., Ltd. mainly manufactures high-end LEDcommercial lighting products and engages in LED lighting design, development, production, sales and service. Our aim is to provide customers with high quality products and professional services,which are important factors to the success that we have achieved in the LED industry. Major customers are from Korea, Europe, Asia and North America. Products have been passed successively by authorities qualified inspection and the international recognition CE,EMC, ROHS, KC,KS,ISO9001.
Part of the content of this article has been compiled from the network and shared. If there is any infringement, please contact the editor to delete it.